NASA'S Gateways to Blue Skies:
Clean Aviation Energy Competition
As aircraft design and fuels change to become more environment friendly, airports, operations and overall infrastructure must also change. The Gateways to Blue Skies: Clean Aviation Energy Competition challenges teams of university-level students to conceptualize the source-to-flight lifecycle of a potential future clean aviation energy source, in terms of feasibility, viability, and environmental impact. By evaluating potential new energy sources and analyzing the entirety of the supply chain, teams may help determine the "clean aviation energy" source of the 2050s.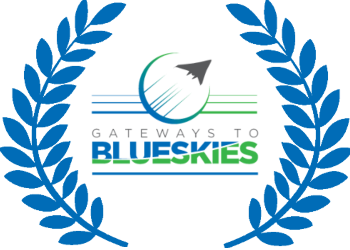 June 5, 2023 - Boston University (Aluminum Powder Combustion) placed first and University of California, San Diego took second, with other special awards at the 2023 Blue Skies Forum.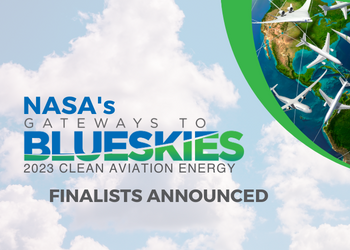 March 28, 2023 - Eight teams have been selected to present their clean energy concepts to a panel of NASA & industry judges at the 2023 Blue Skies Forum, June 1-2 at NASA's Glenn Research Center.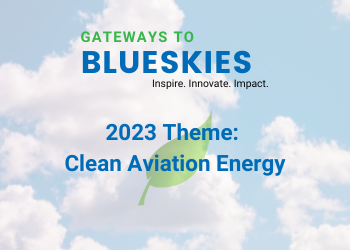 July 26, 2022 - The 2023 Competition focuses on the source-to-flight climate impacts of new, alternative clean aviation energy sources. Be the future: Start today!
The Gateways to Blue Skies competition (aka, Blue Skies) was developed to expand engagement between universities and NASA's Aeronautics Research Mission Directorate's (ARMD's) 
University Innovation Project
. Gateways to Blue Skies projects allow students to work on real aviation/aeronautical design concepts together in a team environment, with a new project theme each year. Blue Skies is open to multi-disciplinary teams comprised of undergraduate and graduate college students who have an interest in aviation and/or aeronautics.
Initial participation involves a conceptual study, submission of a 5-7 page proposal and video summarizing the team's proposal. Finalists write a final research paper, create an infographic summarizing concepts, and present in front of NASA and industry experts at a culminating forum held at a NASA Center. Internship opportunities with NASA's ARMD serve as the competition prize for members of the winning team. 
Toggle the menu below for additional competition details. Visit the
Competition Details
page for more details about this year's competition.
>> Eligibility
>> Prizes
>> How to Compete
>> Eligibility
The Gateways to Blue Skies competition is open to full-time or part-time undergraduate and graduate students at an accredited U.S.-based community college, college, or university. Teams may include senior capstone students, clubs, multi-university teams, and/or multi-disciplinary teams. Multi-disciplinary teams and teams from Minority Serving Institutions are highly encouraged to apply!
UNIVERSITY TEAMS MUST INCLUDE:
At a minimum, teams must contain one faculty advisor with a university affiliation at a U.S.-based institution, and 2 U.S. citizen (or lawful permanent resident) students from that U.S.-based university who work on the project and present at the culminating Blue Skies Forum. 

Team size is limited to a maximum of 6 student team members.

A faculty advisor is encouraged to attend the Forum with each team.
SPECIAL ELIGIBILITY CONSIDERATIONS:
An individual may join more than one team. A faculty advisor may advise more than one team.

A university may submit more than one proposal.

Team members may not be a federal employee acting within the scope of employment (this includes co-op students with civil servant status)

The expectation is that Blue Skies projects are student-led initiatives (i.e., students are doing the work).

Faculty take on the role as mentors, and if a team is selected as a finalist, help manage any monetary awards sent to the university.
SPECIAL NOTES REGARDING FOREIGN NATIONALS:
Foreign Nationals (FNs) attending the proposing U.S.-based university can participate on a Blue Skies Competition Team, with one notable exclusion. Due to prohibitive restrictions and ever-changing NASA security regulations, foreign nationals will not be able to attend culminating Blue Skies Forum events that take place on-site at a NASA Center (including tours). There will be no exceptions to this policy.

FNs can, however, participate in any portions of the culminating Blue Skies Forum that take place off-Center.
FOREIGN UNIVERSITIES: INELIGIBLE
Eligibility is limited to universities in the United States. Foreign universities are not eligible to participate in the Blue Skies Competition.
>> Prizes
>> How to Compete